Democr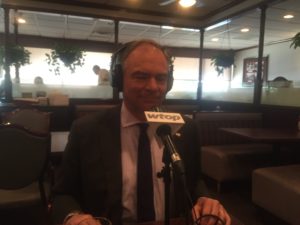 atic VP candidate Tim Kaine did a live interview on WTOP on QGoLive on 8/6/2016.  Setup was a broadcast mic into an iRig feeding an iPhone 6.  Kaine got his cue audio through a headset (see photo).
Some notes from WTOP's Brian Oliger:
In the interview there's one point at which it sounds like he drops out, but that was anchor error on the board. At another point, he got distracted by somebody at the remote location…that also sounds like it could be a drop-out, but wasn't.
Thanks Brian!