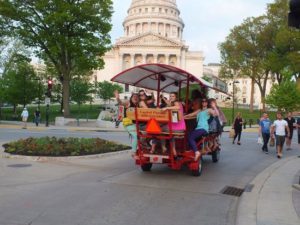 QGoLive works just about anywhere.  Case in point:
Each July defunct AM carrier-current radio station WLHA returns to the airwaves of Madison, WI over the facilities of its successor WSUM 91.7 FM for the Radio Resurrection Weekend.  Old (and we mean old!) DJ's recreate their shows from days gone by and take to the streets to force innocent people into taking part in contests.
Here's former WLHA station manager Tom Baer aboard a moving Trolley Pub conducting a trivia contest while cruising through the streets of Madison.  He's using an iPhone X and an iRig HD2 microphone.  Enjoy!
WLHA lives on today as a 24/7 stream complete with its own mobile apps and Alexa skill: